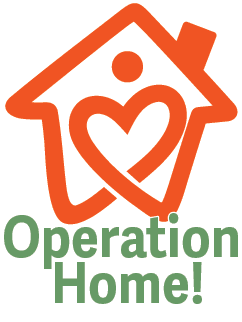 Property Partners
$1,000 Signing Bonus ($500 after October 1,2022)
Partner with Operation HOME! and once the tenant signs the lease, we provide a signing bonus EACH time.
 Timely Rent Payments
During the duration of the lease, Operation HOME! case managers will ensure financial assistance with rent is paid in a timely manner by ACH electronic process or on a mutually acceptable payment method.
Increased Security Deposits
To support access to housing, Operation HOME! can pay up to two times the amount of rent as a security deposit.
Risk Mitigation Fund
If, and when, things happen, property partners of Operation HOME! have access to a fund to pay for expenses if repairs exceed the security deposit.
No More Marketing / Tenant Matching
Operation HOME! will match tenants to dedicated units. Partnering with Operation HOME! means not having to worry about a vacancy or marketing expenses to find tenants.
Dedicated Housing Specialist
Each landlord who partners with Operation HOME! will have a dedicated LEAPS housing specialist available by phone 24 hours a day, 7 days a week. A team member is available to call if you have questions or an issue arises at any time.
Your Title Goes Here
Your content goes here. Edit or remove this text inline or in the module Content settings. You can also style every aspect of this content in the module Design settings and even apply custom CSS to this text in the module Advanced settings.
What are the benefits of partnering with Operation Home!?
Partners are eligible for a $1,000 signing bonus after an Operation Home! tenant signs the lease.
The Agency supportive housing partners will develop an individualized financial assistance plan to enable the tenant to succesfully take over the full rent amount.
When a unit becomes vacated, Clark County can reimburse landlords up to $3,000, if needed, for  property damage that exceeds the security deposit.
Unit Rehabilitaton Reimbursement
If a unit cannot meet Housing Quality Standards (HQS) inspection requirements prior to occupancy, Clark County can provide financial reimbursement to the landlord after an Operation Home! tenant signs the lease. The Landlord may be reimbursed up to $3,000 after an initial $500 deductible is applied, to help cover the costs.
Save money on marketing expenses! Property parnters can list unit vacancies at no-cost through Padmission, a closed online housing search platform. Supportive housing partners will utilize Padmission to match tenants to listed units.
Community Service Providers  provide case management and wrap-around supports to connect the tenant with additional resources such as financial literacy education, employment services and other supports, as needed, to assure stable housing.
LEAPS housing navigators are availabe to address the landlord's questions and concerns during and after business hours. The LEAPS team is dedicated to assisting our Operation Home! Property Partners. We are availabe 24/7. LEAPS staff can be reached by phone or email.
Email: LEAPS@ClarkCountyNV.gov
24 Hr Landlord Support Line 702.219.5524
How does this housing program exactly work?
Step 1: List your unit on Padmission to match to prospective tenants.
Step 2: Screen and select tenants who apply for available unit
Step 3: Update Padmission (unit no longer available)
Step 4: Inspection Scheduled when unit is ready (utilities must be on and unit must be ready for occupancy).
Step 5: Coordinate payment process and amounts with CM
Step 6: Execute the lease. Tenant moves in.
Step 7: Signing Bonus submitted to LEAPS
Step 8: Tenant supported by Case Manager, Landlord supported by LEAPS
How can I learn more about the Risk Mitigation Fund?
The risk mititgation fund supports Property Partners with unit rehabilitaton to meet Housing Quality Standards (HQS) and for property damage that exceeds the security deposit. Claims are submitted on the Help Hope Home website at: helphopehome.org (See For Landlords).
Unit ehabilitation Claims
Landlord may be reimbursed up to $3,000 after an initial deductible of $500 to rehabilitate units that could not meet HQS standards prior to rehab. Unit must be used for supportive housing with a signed lease to an Operation HOME! or other program tenant
Property Damage Claim
Landlord may be reimbursed up to $3,000 for damages to restore the unit following the tenant's exit. Security deposits and other allowable U.S. Department of Housing and Urban Developments funds must be exhausted. Normal wear and tear are not allowable expenses.(ex: flooring, carpets, paint etc.)
Required Claim Documenation:
Before and after photos
Invoices/reciepts
Notices of other charges
Signed program tenant lease agreement
Move in/out condition report (for damage claims)
Proof tenant is enrolled with a supportive housing partner
Inspection report
Unit readiness
Apply for Risk Mitigation Claims
Additional questions please contact: LEAPS@ClarkCountyNV.gov
How does Operation Home! compare to other housing programs?
OH tenants have case managers who work with them to assure they can take over the rent.
OH landlords have LEAPS housing navigation support to help resolve issues or concerns and to receive vacancy notifications. The 24/7 landlord support line is (702) 219-5524.
OH landlords can list their units on Padmission at no cost, and begin receiving applications from tenants who need units.
OH landlords are eligible to receive a $1,000 signing bonus ($500 after October 1, 2022) for every OH tenant lease.
OH landlords are eligible for Risk Mitigation for reimburseable unit restoration.
"Compassion is an action word with no boundaries" – Prince